dr. M. Babaie
Assistant Professor
Electronics Research Laboratory (ELCA)
,
Department of Microelectronics
Expertise: RF circuits
Themes:
XG - Next Generation Sensing and Communication
Biography
Masoud Babaie received the B.Sc. (Hons.) and M.Sc. degrees in electrical engineering from the Amirkabir University of Technology, Tehran, Iran, and the Sharif University of Technology, Tehran, in 2004 and 2006, respectively, and the Ph.D. (cum laude) degree from the Delft University of Technology, Delft, The Netherlands, in 2016.
He joined the Kavoshcom Research and Development Group, Tehran, in 2006, where he was involved in designing tactical communication systems. He was appointed a CTO of the company from 2009 to 2011. He was consulting for RF group of TSMC, Hsinchu, Taiwan, during 2013-2015, designing 28-nm All-Digital PLL and Bluetooth Low Energy transceiver chips. From 2014 to 2015, he was a Visiting Scholar Researcher with Berkeley Wireless Research Center, Berkeley, CA, USA, with the Group of Prof. A. Niknejad. Since Aug. 2016, he has joined the Delft University of Technology as an Assistant Professor. His current research interests include analog and RF/mm-wave integrated circuits and systems for wireless communications.
Dr. Babaie serves as a Reviewer of the IEEE JOURNAL OF SOLID-STATE CIRCUITS. He was a recipient of the IEEE Solid-State Circuits Society (SSCS) Pre-doctoral Achievement Award from 2015 to 2016.
Last updated: 19 Oct 2017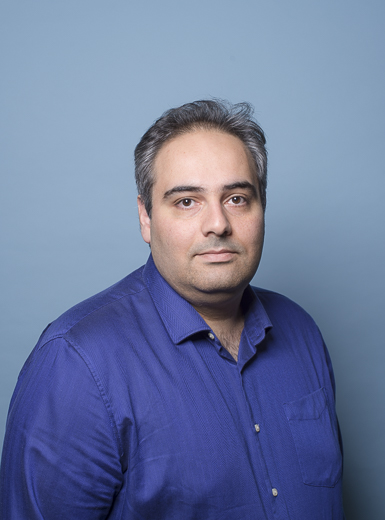 Sarthak Sharma
Sunil Sheelavant
Charlotte Treffers
Jiang Gong
Anand Ramesh

Alumni

Bishnu Patra (2016)