dr.ir. M. Trifunovic
PhD student
Electronic Components, Technology and Materials (ECTM)
,
Department of Microelectronics
PhD thesis (Sep 2016): Liquid Silicon for Printed Polycrystalline Silicon Thin-Film Transistors on Paper
Promotor: Lina Sarro, Ryoichi Ishihara
Biography
Miki Trifunovic was born in Kyoto, Japan, in 1989. He received his cum laude B.Sc and cum laude M. Sc with honour, in Electrical Engineering in 2010 and Microelectronics in 2012 respectively at Delft University of Technology, the Netherlands. During his master he has done an internship as a researcher on organic electronics at Tokyo University, Japan, in 2011. His master thesis project was on liquid silicon as a base material for printing high speed flexible electronics.
In 2012 he started his PhD in the Thin-Film Transistor group in the Electronic Components, Technology and Materials (ECTM) department of Delft University of Technology. His research is currently based on further analysis of the liquid silicon material for flexible circuit applications.
Last updated: 9 Mar 2019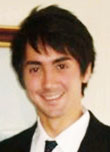 Miki Trifunovic
Alumnus
Left in 2016
Now: Thin Film Electronics