News
New sensor chips; low-cost, smart and efficient
Wednesday, 28 October 2020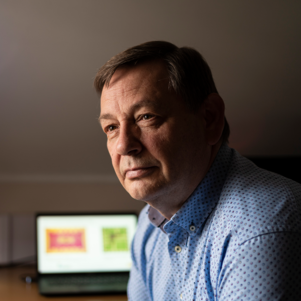 In a greenhouse, cucumbers are growing beautifully. A grower is cultivating them under the most favourable conditions, closely monitoring the precise amount of water they need and whether the temperature is optimal, to ensure that the cucumbers that end up on your plate are juicy, flavoursome and green. The grower's job is by no means carefree, however. What if the crop is blighted by some disease? One of the strategies that researchers are working on to prevent this involves an "electronic nose". All plants, cucumbers included, emit a scent. An electronic nose can immediately detect whether something is wrong. The same technique can be applied in a chicken coop or cowshed. As soon as a disease breaks out, the electronic nose will detect it and give a warning.
For complete article;
https://www.tudelft.nl/en/stories/articles/new-sensor-chips-low-cost-smart-and-efficient/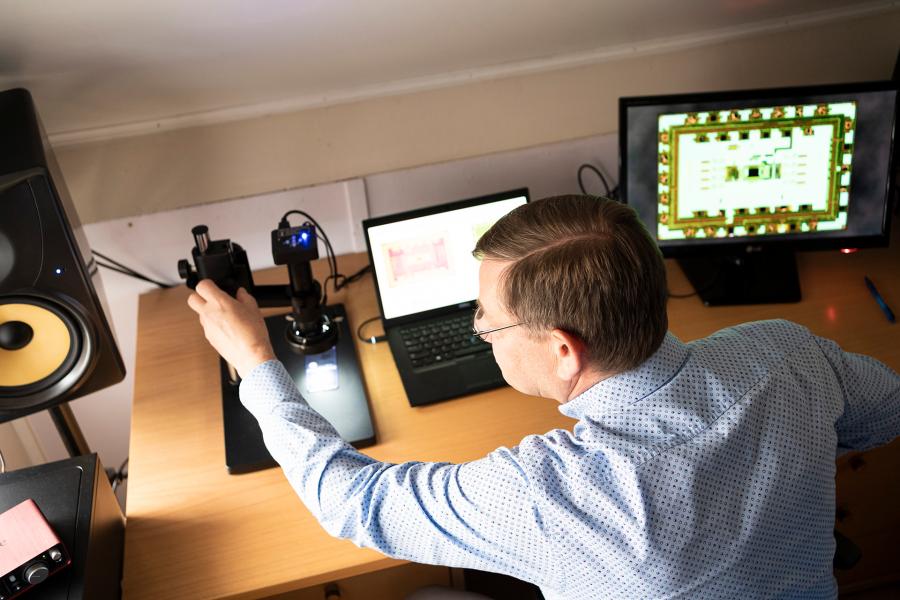 ---
Treating your disorder with electronic medicines
Thursday, 15 October 2020
Increasing numbers of people now have a chip in their body which they can use to make payments or check in to public transport. "It sounds futuristic, but the technology is not that extraordinary", explains Prof. Wouter Serdijn. "My dog has something similar."
More ...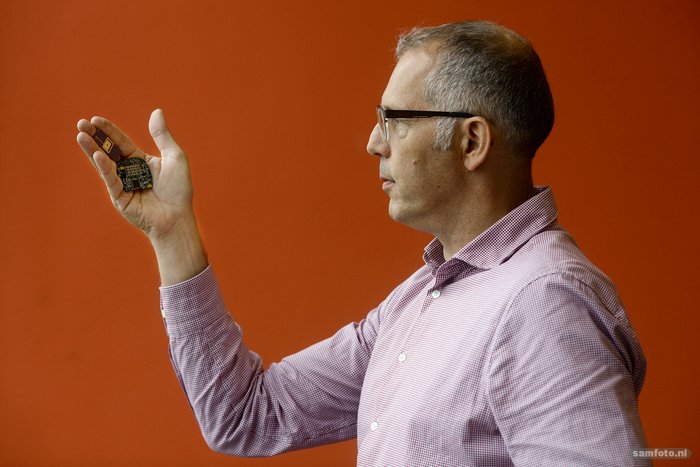 ---
The Matlab code has been published on the Code Ocean web-site
Jianping Wang published the Matlab codes for the article "3-D Short-Range Imaging With Irregular MIMO Arrays Using NUFFT-Based Range Migration Algorithm":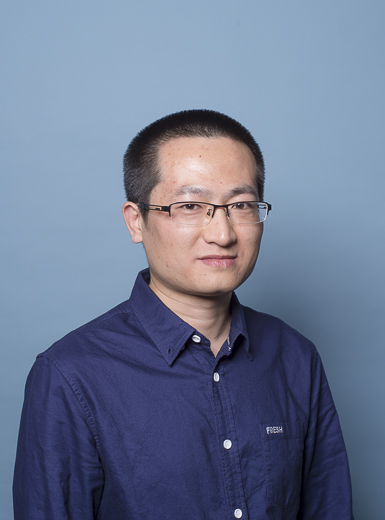 ---
European Microwave Week 2020 (EuMW 2020): Bring a student for free!
Thursday, 24 September 2020
European Microwave Week 2020 (EuMW 2020) is being scheduled as a physical, in-person, event in Utrecht, The Netherlands, from 10-15 January 2021. The number of conferences being held as physical, in-person, events has been greatly reduced during the 2020/2021 conference season. For our younger Ph.D. students, this deprives them of opportunities to meet fellow international students early in their research career. To help these students, who are often not yet ready to present or publish a peer-reviewed paper, we have initiated a "Bring-a-Student-for-Free" campaign.
Act swiftly! There are only 50 places available . . . and these places are available on a first-come, first-served basis. Here are the rules in brief:
Any university professor attending EuMW 2020 can bring a Ph.D. student for free.
Eligible Ph.D. students are those that would otherwise not be in the position to attend EuMW; i.e. the student cannot be the author of an accepted EuMW paper.
The attending professor's prior registration at EuMW 2020 is required.
This offer is only available from 28 September – 25 October 2020.
To apply, send a message to grants@eumw2020.org, with the subject "Early-Ph.D. grant", giving:
Student name + email address,
Supervising professor + email address,
University affiliation,
Conferences requested (EuMIC/EuMC/EuRAD).
All applications will be evaluated and then grants will be awarded using a discount code.
It is appreciated if the student can also help as a volunteer for one or two days during the conference week. It is fun to do this, being together with other fellow students, and it also helps us in organising of EuMW 2020. Mentioning this grant on your C.V. will be a benefit, and it makes even more sense if you mention it alongside the volunteering role. However, volunteering is not necessary for the grant to be awarded.
More ...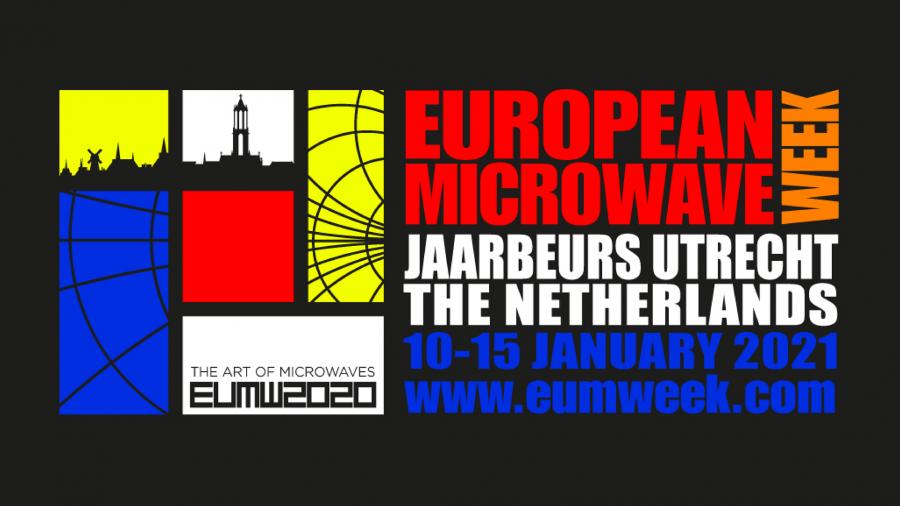 ---
Professor Ir. Leendert (Leo) Krul passed away
Tuesday, 22 September 2020
Met innig medeleven hebben wij kennins genomen van het overlijden van Prof. Ir. Leendert (Leo) Krul. Met grote vakkundigheid en toewijding heeft hij een enorme bijdrage geleverd aan het vakgebied "Telecommunicatie" voor de TU Delft. Wij wensen de familie veel sterkte met dit verlies.
With heartfelt sympathy, we have taken note of the death of Prof. Ir. Leendert (Leo) Krul. With great skill and dedication, he has made an enormous contribution to the field of "Telecommunication" for TU Delft. We wish the family much strength with this loss.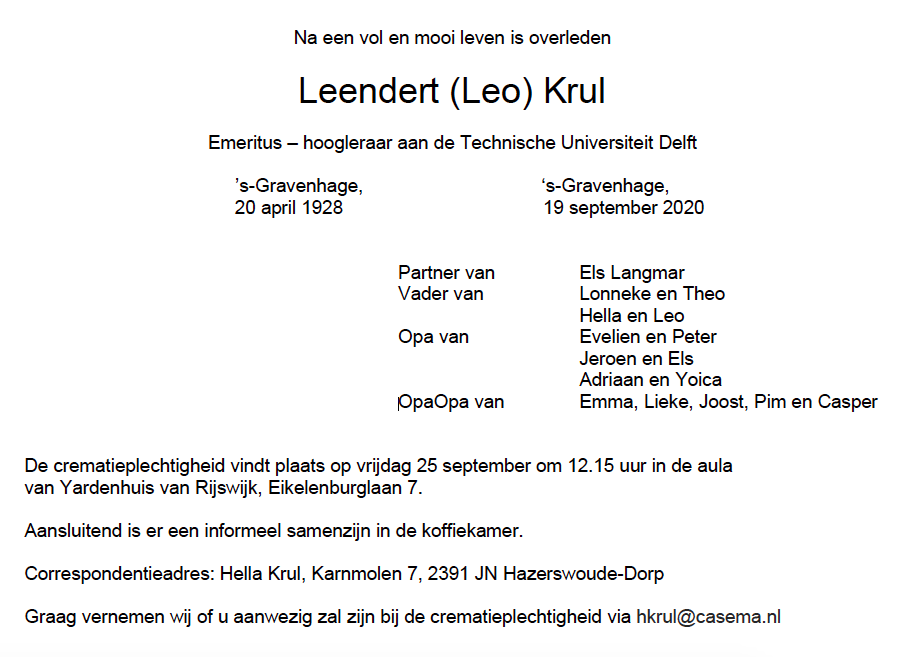 ---
Michiel Pertijs will present at ESSCIRC/ESSDERC Virtual Educationals
Michiel will contribute to the upcoming ESSCIRC/ESSDERC Virtual Educational events (see https://www.esscirc-essderc2020.org/educationals). He will give an invited talk in the Workshop on Emerging Solutions for Imaging Devices, Circuits and Systems. In his talk, Michiel will show how integrated circuits play an enabling role for the next generation of smart ultrasound devices. The ESSCIRC/ESSDERC Virtual Educational events are available online between Sept. 7 and Oct. 16, with a live sessions on Sept. 14 and 15.
More ...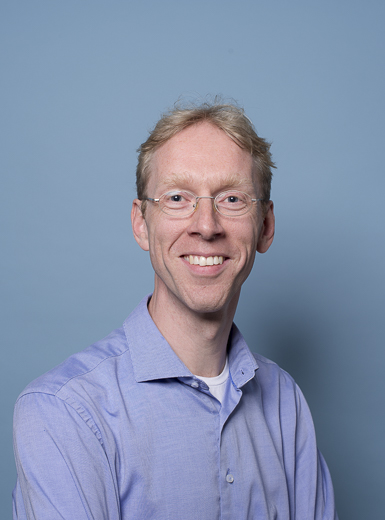 ---
Max Schöpe wins 3rd prize in student paper competition at FUSION 2020
PhD student Max Schöpe won the 3rd prize in the student paper competition at this year's edition of the International Conference on Information Fusion (FUSION) for his paper "Multi-Task Sensor Resource Balancing Using Lagrangian Relaxation and Policy Rollout".

For more than 20 years the FUSION conference has been recognised as a premier forum for researchers and practitioners to exchange ideas in the field of information fusion and its impacts on our society. The presented papers cover foundational, technological, and application-focused innovations in the sensor, data, information and knowledge fusion scientific domains. This year 169 papers were accepted and presented at the conference in total.