News
Perspectief Programme ULTRA-X-TREME Granted
Ultrafast Ultrasound Imaging for Extended Diagnosis and Treatment of Vascular Disease (ULTRA-X-TREME)
NWO (the Netherlands Organisation for Scientific Research) has announced the new research programmes that will be part of its 'Perspective for Top Sectors' funding programme. One of the programmes that will be funded is the ULTRA-X-TREME programme, in which new ultrasound techniques will be developed for improved diagnosis of dangerous vascular problems. Michiel Pertijs' Ultrasound ASICs group at the Electronic Instrumentation Laboratory will be responsible for the development of advanced integrated electronics for the high-frame-rate 3D ultrasound probes that will play a key role in this programme.
Vascular problems can be life-threatening. Cerebral infarctions (strokes) are often caused by calcification of the carotid artery and ruptures in the abdominal artery (aortic aneurysms) as a result of a weakening of the arterial wall. Currently, doctors determine the likelihood of both problems simply by measuring the diameter of these arteries. However, this has proved to have only limited predictive value, which means more people than necessary undergo life-threatening treatments and dangerous cases are overlooked.
The ULTRA-X-TREME programme will develop new, highly accurate ultrasound techniques to enable 3D imaging of the arterial walls and blood flow. New transducers, contrast media and analysis techniques will be developed in order to determine much more effectively whether treatment is necessary.
The ULTRA-X-TREME consortium brings together the best Dutch research groups in the field of ultrasound technology and the biomechanics of blood vessels with hospitals and international industry. Within this programme, Michiel Pertijs will work together with Nico de Jong and Martin Verweij (Imaging Physics, Fac. of Applied Sciences) and Hans Bosch (Erasmus MC) on the development of a unique matrix transducer with more than 20,000 elements and integrated electronics, for making 3D echo images with a high volume frame rate.
Programme leader: Prof. dr. ir. C.L. de Korte (Radboudumc and Twente University)
Participants: ANSYS, Bracco Suisse S.A., Catharina hospital, Erasmus MC, Harteraad, Mindray, Nederlandse Vereniging voor Vaatchirurgie (NVVV), Philips Electronics Nederland, Pie Medical Imaging, Radboudumc, Rijnstate hospital, TU Delft, TU Eindhoven, TOMTEC Imaging Systems, Twente University, Vermon S.A., Verasonics
More ...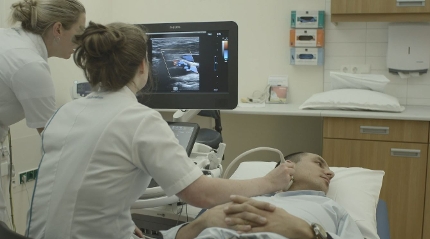 ---
BI/OND wins Accenture Innovation Awards 2018 for Health
Tuesday, 13 November 2018
TU Delft start-up BI/OND is the winner of the Accenture Innovation Awards 2018 in the Health category.

According to the Jury: "This year's winner has proven that science can indeed make a difference. They are truly a learning organization. Yet as scientists, they risk staying unsung heroes. Winning today provides them with the opportunity to realize their full potential and develop into a business, making their dreams come true."

It has been a challenging journey for BI/OND. From the top 50 innovation nomination, to the Summer Nights where 25 companies were selected, through the Semi-Finals (top 10), and all the way up to the Finals (top 5), the winners of the Accenture Innovation Awards 2018 (AIA18) were finally announced on November 2nd.

The AIA18 Innovation Journey focused on 8 global themes, tackling both local and global issues. DeFabrique, the Innovation Summit's scenery, was packed with more than 2,500 visitors from various industries and backgrounds with one thing in common: the desire to disrupt the current status quo. The jury spent hours deliberating who should be the next leading innovator of their theme, culminating in the announcement of the winners.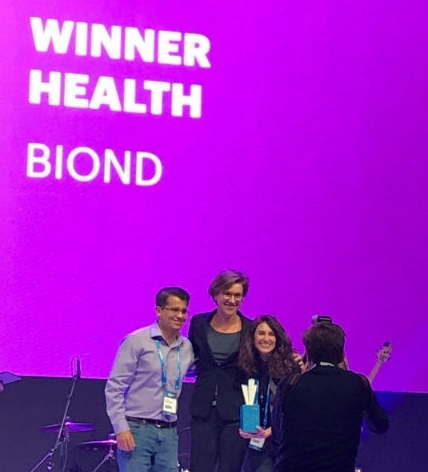 ---
Our work on Intravascular Ultrasound featured on the cover of TUFFC
Thursday, 8 November 2018
The IEEE Transactions on Ultrasonics, Ferroelectrics, and Frequency Control selected our paper
J. Janjic, M. Tan, E. Noothout, C. Chen, Z. Chan, Z. Y. Chang, R. H. S. H. Beurskens, G. van Soest, A. F. W. van der Steen, M. D. Verweij, M. A. P. Pertijs, and N. de Jong, "A 2D ultrasound transducer with front-end ASIC and low cable count for 3D forward-looking intravascular imaging: Performance and characterization," IEEE Transactions on Ultrasonics, Ferroelectrics, and Frequency Control, vol. 65, no. 10, pp. 1832-1844, Oct. 2018 (link)
to be featured on the cover of the October 2018 issue.
This paper is the result of a collaboration on intravascular ultrasound imaging between the Ultrasound ASICs group at the Electronic Instrumentation Lab, the Thoraxcenter at Erasmus MC, and the Laboratory of Acoustical Wavefield Imaging at the Faculty of Applied Sciences, Delft University of Technology.
Forward-looking intravascular ultrasound (FL-IVUS) holds rich potential for guidance of complex vascular interventions, such as recanalization of coronary chronic total occlusions. The realization of FL-IVUS devices is fraught with technical challenges, as a high-resolution volumetric image needs to be created from a small (< 1.5 mm) aperture with scant space for cabling and electronics. In this issue of the Transactions, we present an innovative concept for an FL-IVUS matrix array, consisting of 16 transmit (yellow) and 64 receive elements (red), addressed by only four cables. A dedicated front-end ASIC performs element addressing and received signal amplification. The realized configuration produces a narrow pulse-echo beam profile with sidelobes below −20 dB. 3-D synthetic aperture imaging (bottom) at a volume rate of 100 Hz is feasible.
Details on the ASIC, which was designed at the Electronic Instrumentation Lab by Mingliang Tan, Chao Chen, Zhao Chen and Michiel Pertijs, can be found in
M. Tan, C. Chen, Z. Chen, J. Janjic, V. Daeichin, Z. Y. Chang, E. Noothout, G. van Soest, M. D. Verweij, N. de Jong, and M. A. P. Pertijs, "A front-end ASIC with high-voltage transmit switching and receive digitization for 3D forward-looking intravascular ultrasound imaging," IEEE Journal of Solid-State Circuits, vol. 53, no. 8, pp. 2284-2297, Aug. 2018 (link)
More ...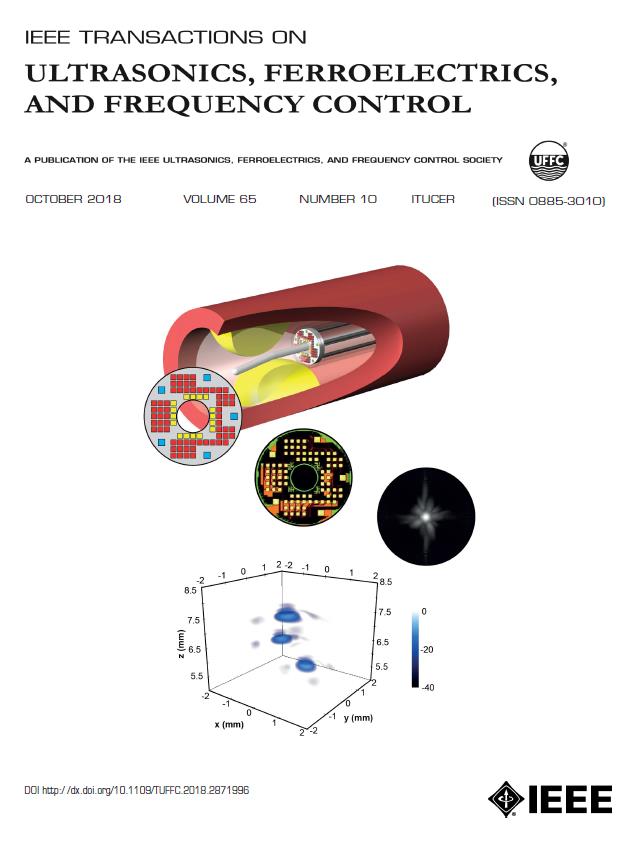 ---
Six papers at the 2018 IEEE Ultrasonics Symposium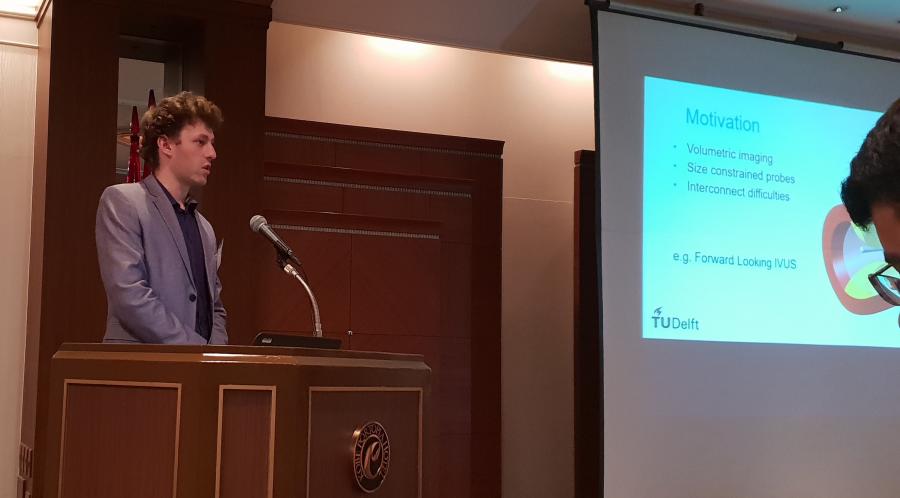 At the 2018 IEEE Ultrasonics Symposium (IUS) - the world's premier conference on ultrasound research held in Kobe, Japan, in October - the Ultrasound ASICs group presented six papers covering various aspects of our work on integrated circuits for smart ultrasound applications.
Douwe van Willigen presented two papers at IUS. The first, entitled "ASIC design for a single-cable 64-element ultrasound probe", was nominated for the Best Student Paper Competition (top 3.5% of the student paper submissions). In this paper, we present an ASIC (Application-Specific Integrated Circuit) that interfaces 64 piezoelectric elements directly integrated on top of the ASIC to an imaging system using a single micro-coaxial cable. This innovative design allows a single-element transducer to be replaced by a transducer array, while using the same cable, making it a promising solution for 3D imaging with size-constrained probes. This work is part of our work on intra-vascular ultrasound , a collaboration with the Acoustical Wavefield Imaging Lab (Faculty of Applied Sciences, Delft University of Technology) and the Thoraxcenter, Erasmus MC, Rotterdam.
A second paper authored by Douwe, "Minimizing the zero-flow error in transit time ultrasonic flow meters", presents results of our FLOW+ project, analysing the effect of driver- and readout electronics on the zero-flow error in transit-time ultrasonic flow meters.
Another paper that links to the same FLOW+ research project, entitled "Feasibility of ultrasound flow measurements via non-linear wave propagation," was presented by Jack Massaad. This paper demonstrates the feasibility of using non-linear wave propagation to improve the precision of flow measurements using ultrasound.
Zhao Chen presented a paper entitled "A Power-Efficient Transmit Beamformer ASIC for 3-D Catheter-Based/ Endoscopic Probes", which presents an innovative approach to reduce the power consumption of integrated high-voltage pulsers in miniature ultrasound probes.
Zhao also presented a paper entitled "A quantitative study on the impact of bit errors on image quality in ultrasound probes with in-probe digitization", in which we investigate an import question associated with the next-generation of digital ultrasound probes: if you digitize the echo signals in the probe, what are then the bit-error requirements on the digital datalink used to send the echo signals to an imaging system? We've found that very high bit-error rates can be tolerated without significant impact on image quality, opening the door to the use of simple and power-efficient datalink solutions.
Finally, Mehdi Soozande presented a paper entitled "Virtually Extended Array imaging improves lateral resolution in high frame rate volumetric imaging," in which we describe a high-frame-rate transmission scheme which outperforms alternative methods in lateral resolution, targeting catheter-based 3D imaging applications.
More ...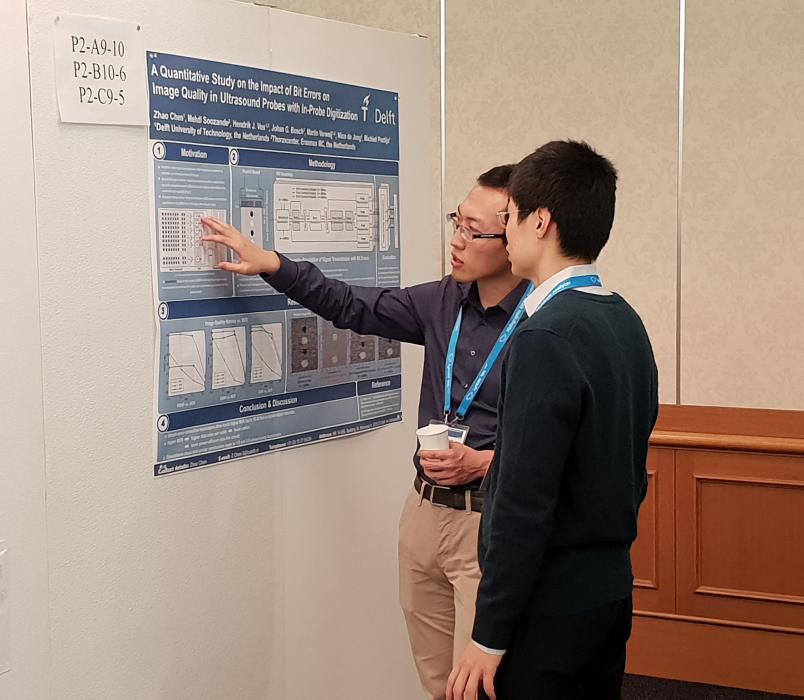 ---
Volgens de wetenschap kunnen doven straks horen en blinden zien
Er staan veel filmpjes online van emotionele mensen die, met behulp van moderne technologie, voor het eerst hun familie kunnen zien. Of van kinderen die voor het eerst de stem van hun ouders horen. Het zijn voorbeelden van de eerste stappen naar het genezen van blindheid. Prof. dr. Wouter Serdijn doet onderzoek naar het ontwikkelen van bio-elektronica met als doel het behandelen van deze menselijke kwalen. Artikel in het AD van 26 oktober 2018.
More ...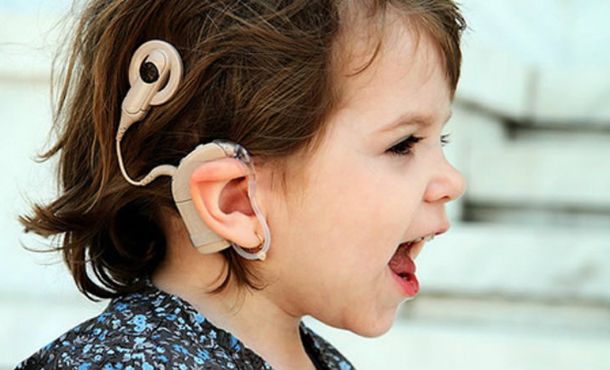 ---
New Assistant Professor
Wednesday, 3 October 2018
CAS welcomes Borbala Hunyadi, a new Assistant Professor, working on Bio Signal Processing
More ...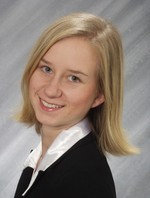 ---
Vacancy: Assistant/Associate Professor of Bioelectronics
Friday, 28 September 2018
Assistant/Associate Professor of Bioelectronics
Faculty: Electrical Engineering, Mathematics and Computer Science
Required Level: Completed PhD
Appointment: 32-38 hours per week
Contract duration: Tenure
Salary: 3545 - 5513 Euro per month (1 fte)
Faculty Electrical Engineering, Mathematics and Computer Science
The Faculty of Electrical Engineering, Mathematics and Computer Science (EEMCS) is known worldwide for its high academic quality and the social relevance of its research programmes. The faculty's excellent facilities accentuate its international position in teaching and research. Within this interdisciplinary and international setting the faculty employs more than 1100 employees, including about 400 graduate students and about 2100 students. Together they work on a broad range of technical innovations in the fields of sustainable energy, telecommunications, microelectronics, embedded systems, computer and software engineering, interactive multimedia and applied mathematics.
The Department of Microelectronics has a strong interdisciplinary research and education programme in the areas of 1. health and well-being, 2. autonomous systems, 3. next generation wireless and sensing technology and 4. safety and security.
With 11 IEEE Fellows among the staff, an excellent microfabrication infrastructure, electrical and physical characterisation facilities, and a strong international academic and industrial network, the department provides high-level expertise in each of these areas throughout the entire system chain.
The Section Bioelectronics is a relatively new section that has been created to address coherently the challenges we face in developing bioelectronic medicine and electroceuticals. The group conducts research, education and valorisation in the fields of circuits and systems for active wearable, implantable and injectable biomedical diagnostic, monitoring and therapeutic microsystems. The group is active in the domains of biosignal acquisition, conditioning and detection, electrical stimulation, transcutaneous wireless communication and power transfer, energy harvesting, bioinspired circuits and systems, CMOS diagnostic systems, flexible implants and microsystem integration.
Job description
The Bioelectronics group is offering a tenure-track position at the Assistant or Associate Professor level in the field of biomedical circuits and systems. You will further develop existing research topics, such as mixed-mode and digital circuits and systems for active wearable and implantable medical devices and create new topics, which may include bioelectronic medicine. You will be involved in teaching at the BSc and MSc levels in the TU Delft's Electrical Engineering and Biomedical Engineering programmes and the Leiden-Delft-Erasmus Technical Medicine programme. Collaborative initiatives are strongly encouraged. You are expected to write research proposals for national and international funding organisations. This is a tenure-track position for a period of five years with the possibility of a permanent faculty position at the end of the contract, subject to mutual agreement.
A Tenure Track, a process leading up to a permanent appointment with the prospect of becoming an Associate or Full Professor, offers young, talented academics a clear and attractive career path. During the Tenure Track, you will have the opportunity to develop into an internationally acknowledged and recognised academic. We offer a structured career and personal development programme designed to offer individual academics as much support as possible. For more information about the Tenure Track and the personal development programme, please visit www.tudelft.nl/tenuretrack.
Job requirements
You must have a PhD degree in the field of biomedical circuits and systems (BioCAS) and some years of experience as a post-doc or university professor. You have an excellent academic track record, reflected by peer-reviewed journal publications, conference contributions, and international research experience. An affinity for working on the interface with other disciplines (biomedical engineering, neuroscience, electrophysiology, biomedical signal processing, etc.) and with clinicians and medical researchers is preferred. You should have a demonstrated ability to initiate and direct research projects and to obtain external funding. Experience in teaching and mentoring of students is required. A teaching qualification is recommended. Demonstrated ability in written and spoken English is required.
Employment conditions
At the start of the tenure track you will be appointed as Assistant Professor for the duration of six years. Section leader, department leaders and you will agree upon expected performance and (soft) skills. You will receive formal feedback on performance and skills during annual assessment meetings and the mid-term evaluation. If the performance and skills are evaluated positively at the end of the tenure track, you will be appointed in a permanent Assistant Professor position.
TU Delft offers a customisable compensation package, a discount for health insurance and sport memberships, and a monthly work costs contribution. Flexible work schedules can be arranged. An International Children's Centre offers childcare and an international primary school. Dual Career Services offers support to accompanying partners. Salary and benefits are in accordance with the Collective Labour Agreement for Dutch Universities.
TU Delft sets specific standards for the English competency of the teaching staff. TU Delft offers training to improve English competency.
Inspiring, excellent education is our central aim. If you have less than five years of experience and do not yet have your teaching certificate, we allow you up to three years to obtain this.
Information and application
For information about this vacancy, you can contact Prof. Wouter Serdijn, email: W.A.Serdijn@tudelft.nl.
For information about the selection procedure, please contact Mrs. L.M. Ophey, HR-Advisor, email: hr-eemcs@tudelft.nl
To apply, please submit by email a detailed CV that includes a list of publications, contact information of at least three scientists whom we can contact for letters of recommendation, and a research and teaching statement along with a letter of application by November 30, 2018 to: hr-eemcs@tudelft.nl.
When applying please mention vacancy number EWI2018-28.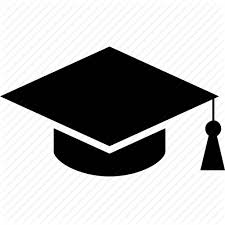 ---
Prof. dr. Makinwa installed as KNAW member
Monday, 24 September 2018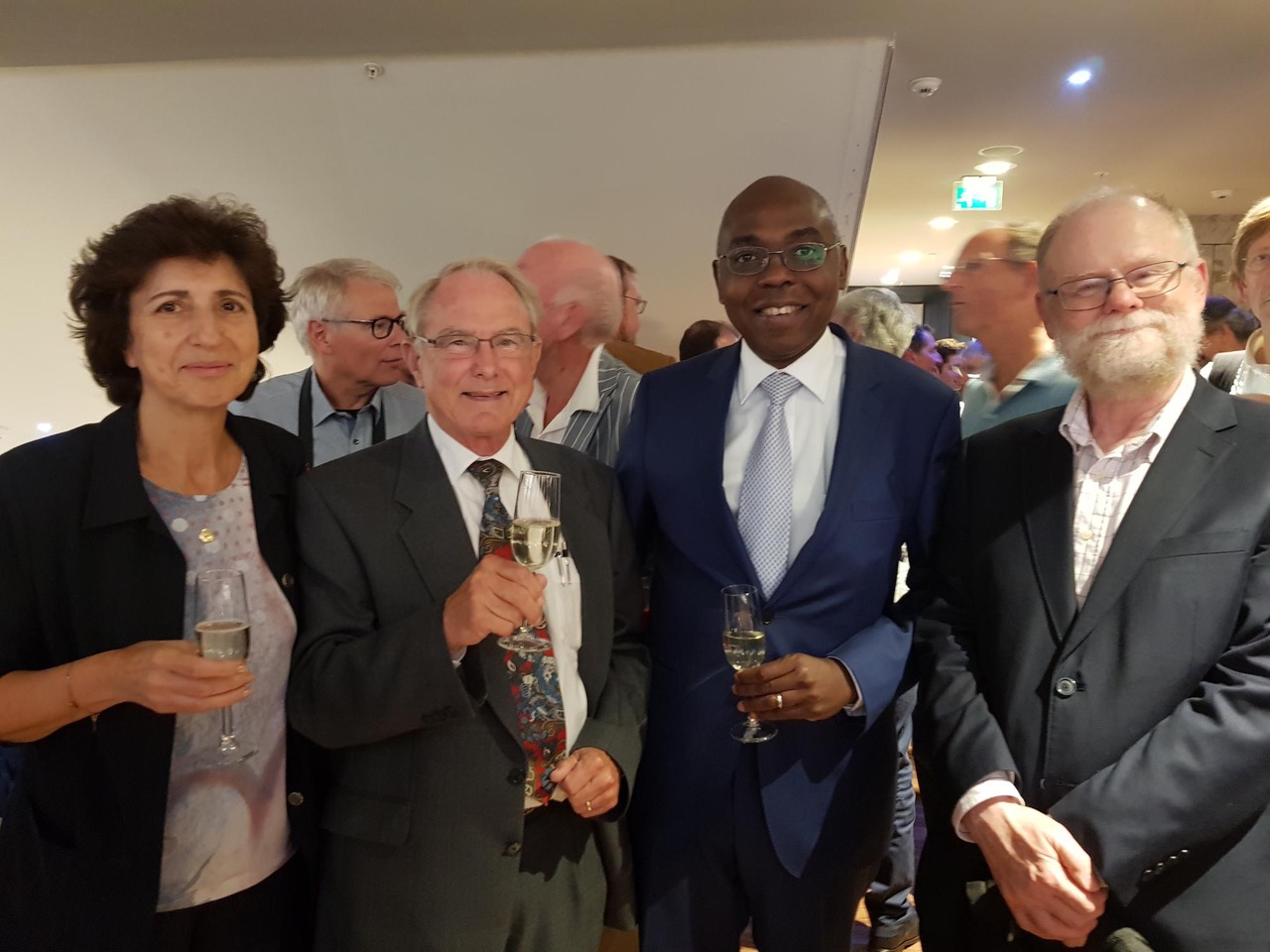 On 17 September 2018 Prof. Kofi Makinwa was inaugurated as KNAW (The Royal Netherlands Academy of Arts and Sciences) Member. KNAW Members are selected for their scientific and scholarly achievements. The 21 new Dutch KNEW Members were installed during a festive ceremony at the The Amsterdam Public Library, central branche.
Professor Kofi Makinwa builds sensors based on chip technology. One of his achievements is a wind sensor without moving parts. Sensors form the connection between the real world and computers. 'My field involves designing smart sensors: microchips that combine sensors and signal processing,' explains the TU Delft Professor of Microelectronics. 'I build chips that can 'feel' their environment, as it were, that can process this information and subsequently transfer it to a computer, all in one. Chip technology means that we can produce them very cheaply. Tyre pressure sensors in cars are one example of such a sensor. They measure the pressure in a rotating tyre and communicate the information wirelessly to the dashboard. Or the temperature sensors that can be found everywhere nowadays: in your smartphone, your car, your household appliances. Sensors that I developed at TU Delft are now in production at companies including SiTime, AMS and NXP, and are being used in Apple's latest gadgets, for example'. Students appreciate Makinwa's enthusiasm and involvement. Thanks to Makinwa's contacts with the industry, they can often convert their designs into real prototypes. Makinwa was previously a member of the Young Academy of the KNAW and invented a cheap weather station for developing countries.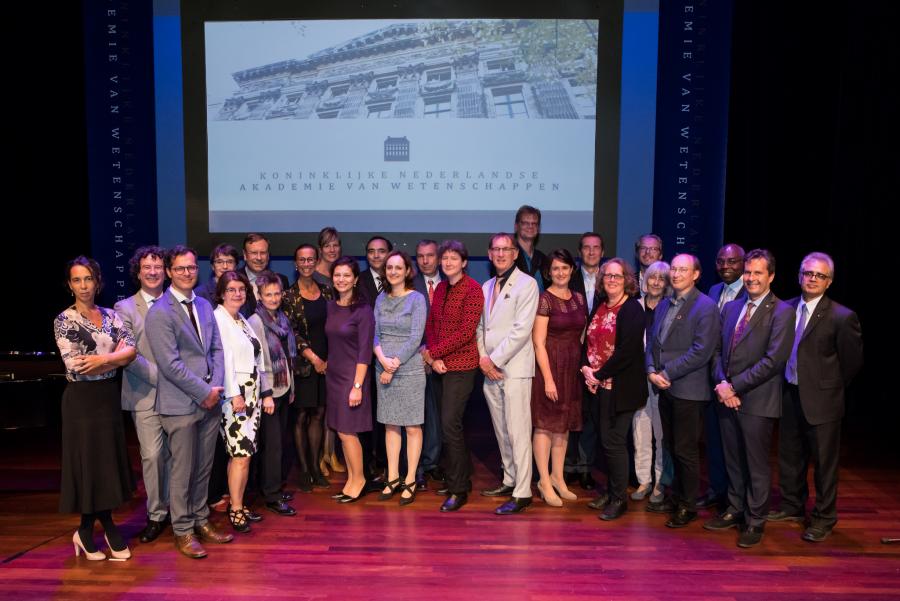 ---
Guillermo Ortiz selected as "Best 2017/2018 Graduate of EEMCS"
Friday, 21 September 2018
Guillermo Ortiz is selected as "Best 2017/2018 Graduate of EEMCS" by the Dean, and is nominated to compete for the Best Graduate of TU Delft (election on 6 November).
Guillermo did his thesis work on the topic of Graph Signal Processing, which was graded with a 10. Part of his work is already accepted for publication in the GlobalSIP 2018 conference, and has been submitted to an IEEE journal.
Congratulations!
More ...